Watching a dog suffering from arthritis is devastating ― a good and long walk brings pain, and a jump to a favourite sofa is no longer possible. Arthritis is one of the most common problems in dogs, particularly in seniors and large breeds. Even though there is no treatment for the progressive condition, early diagnosis and appropriate management can help keep a dog active and improve the quality of life. With the latest advances in veterinary medicine and animal care, many dogs have a chance to live without discomfort until old age. Prescribed medications help to deal with pain and inflammation, but may induce various side effects.
The latest scientific research shows that the administration of CBD to pets may alleviate the symptoms of arthritis and slow its progression.
In the article, we will discuss how CBD may help ease your dog's symptoms of arthritis and joint pain.
What are the CBD benefits?
CBD is short for cannabidiol, one of more than a hundred known cannabinoids of the Cannabis Sativa plant. CBD is extracted through a process, such as CO2 extraction, that separates it from other cannabinoids, such as THC, and helps to make it legal. According to the latest recommendations based on the "exempt product" laws and Home Office guidance of August 2019, THC limit was updated from "1 mg per pack" to "no THC" with a recommended limit of detection up to 0.01%. Due to the negligible THC amount, cannabidiol causes no psychoactive effect.
CBD is well-known for its medicinal qualities and has many benefits that have encouraged researchers all over the world to study CBD potential. It's no surprise that CBD is becoming a popular way to treat pets naturally, creating another exciting market category for cannabis.
How does CBD for dogs work?
CBD for dogs is usually taken in a liquid form, such as CBD oil. Once ingested by a dog, CBD then enters its bloodstream. From here, the CBD goes throughout the body and interacts with the endocannabinoid system. CBD makes the body produce more of its cannabinoids and is likely to block some of the psychoactive effects of THC. In such a way, cannabidiol can be useful in different health conditions, from pain and anxiety to epilepsy.
What causes arthritis in dogs?
Some health conditions, such as arthritis and joint pain, still aren't entirely understood.
In fact, the term "arthritis" refers to more than 100 diseases causing joint pain and joint degeneration. The common symptoms of all arthritis forms are chronic inflammation of the joints, pain, and stiffness in the affected areas. Inside a dog's joints, bone surfaces are normally covered with a layer of smooth cartilage. When these surfaces are lubricated with joint fluid, they can easily glide over one another with minimum friction. In dogs with arthritis, the cartilage within the joints gets damaged and becomes less smooth, resulting in the rubbing of bone surfaces, discomfort to your dog and cartilage damage. Friction makes new bone to form around the joints, causing the joint stiffer and limiting its movement even more – a condition named as degenerative joint disease.
Osteoarthritis, also called Degenerative Joint Disease, is still the most common type of arthritis in dogs, caused by the degeneration of cartilage in the joint.
Usually, arthritis affects older dogs, but the condition can also develop from an early age causing problems with bones and joints. Arthritis is mostly caused by instability of joints, damage to or abnormal cartilage development, or trauma-induced damages.
Dogs, suffering from this condition, are not keen to run and exercise, and may show lameness or stiffness after rest. Some dogs may even continually lick painful joints. The joints rarely appear hot or swollen, as most changes are subtle and undetectable. Some dogs can show signs of pain, while others may just become slower or irritable.
A veterinarian can confirm the condition by performing further tests (e.g. x-rays), or taking a small sample of fluid from inside the joint and blood samples.
Many dogs can successfully experience pain relief with the combination of weight control, exercise management, and anti-inflammatory drugs (NSAIDs). However, some four-legged patients may require complex surgery.
Is CBD helpful for dogs with arthritis?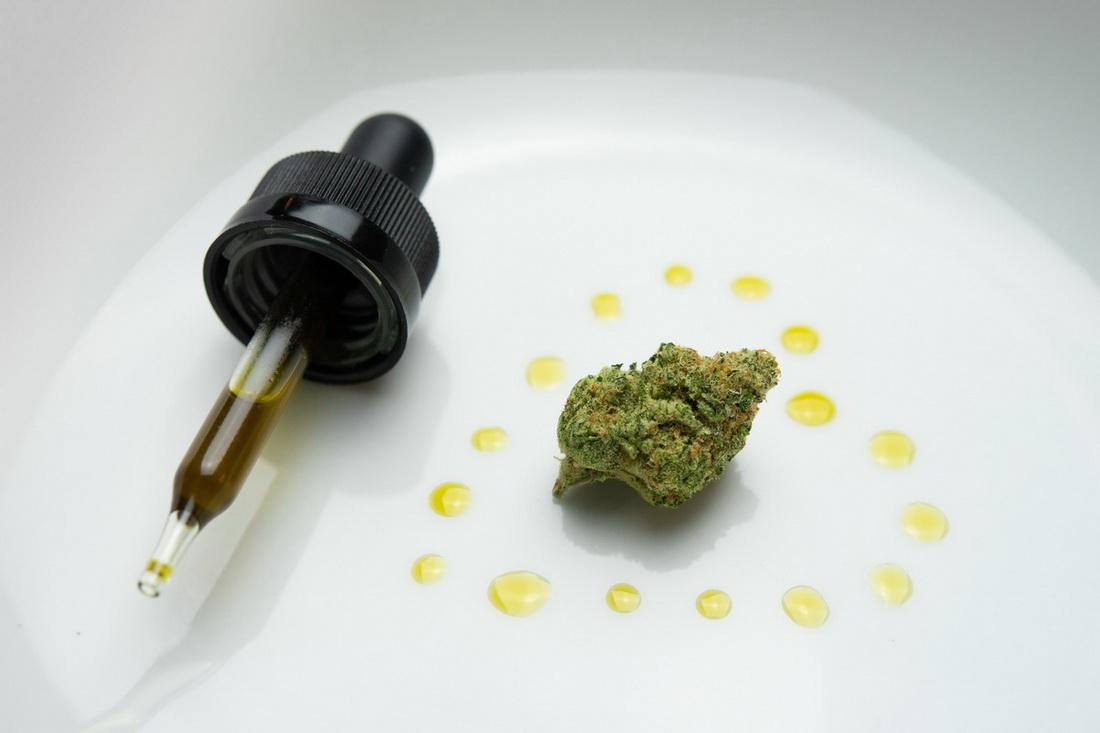 Just like in humans, dogs can find it more difficult to move with age. Osteoarthritis and other problems with joints can massively affect the dog's quality of life. Due to CBD's analgesic and anti-inflammatory properties, CBD products are commonly used for pain management.
A 2015 study with a rat model of arthritis demonstrated that the use of CBD topicals has the potential for arthritis-induced pain and inflammation relief without evident side‐effects.
A 2018 study published in Frontiers in Veterinary Science showed a significant decrease in pain and an increase in activity with CBD oil in canine. The veterinary assessment demonstrated decreased pain during CBD treatment. Owners reported no side effects, but serum chemistry showed an increase in alkaline phosphatase throughout CBD treatment.
CBD may be useful in reducing joint pain and help keep a dog healthy, making a walk or run in the park more enjoyable.
Is CBD legal for dogs in the UK?
The UK Veterinary Medicines Directorate considers that veterinary products with CBD are veterinary medicines and should be regulated accordingly. CBD products for animal use require a marketing authorisation before they can be sold or supplied in the UK. So far, there are no CBD products authorised for veterinary use in the UK, and a veterinary surgeon may prescribe a legal CBD product for humans. Administration of an unauthorised CBD product with no veterinary prescription is considered an offence under Regulation 8 of the VMR.
How to give CBD to your dog?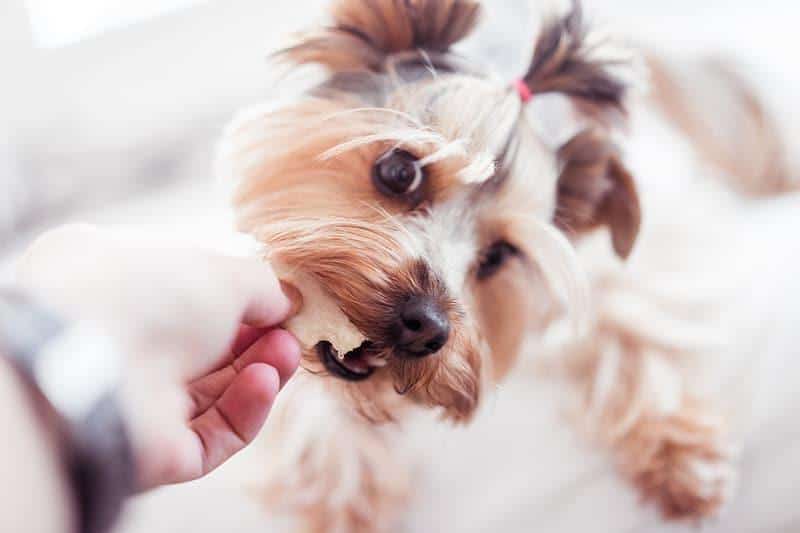 CBD-infused dog treats and CBD oils are the most common way to give your dog CBD. There are also balms and creams available, but these are rare and may be less effective.
CBD oil and treats have its peculiarities:
CBD oils are one of the most concentrated types of CBD products. It is usually mixed with a carrier oil and comes with a dropper for easier dosage. Vets recommend applying the required amount of drops on a finger and rubbing it on the dog's gums or under their tongue for better absorption. It can also be added to the dog's water or food.
CBD treats are similar to CBD edibles for humans, as they come in the form of small biscuits, chewy treats, and snacks. CBD treats can be given on their own or crumbled to food. Dog treats taste very good, and many dogs eat them with pleasure.
There are no official CBD dosage recommendations for pets in the UK. The dog owners should define the dosage depending on the dog's weight and health condition, check the product label and follow the vet recommendations. It is better to start with a smaller dosage and increase it gradually, rather than giving a large dosage off the bat that may cause side effects.
Possible side effects of CBD in dogs
So far, there's no scientific data on the side effects of CBD usage for dogs. Therefore, potential side effects are based on humans' data. To minimise the risk of any adverse effects, the owner should adhere to the proper dosage and buy the products with a valid Certificate of Authenticity.
Potential side effects include:
Dry mouth due to a decrease in saliva production;
Lowered blood pressure, which may cause light-headedness;
Drowsiness, which is usually caused by using higher doses;
Increased appetite, due to stimulating receptors in the dog's brain;
Vomiting that happens due to the extraction processes and the carrying oil.
Risks of using CBD oil for dogs
When it comes to the risks of CBD for animal use, the information is scarce, and the vets and researchers look at effects on humans. As cannabidiol is considered to be well-tolerated and low-risk for humans, it is also thought to be safe for dogs. It is also unclear how CBD interacts with veterinarian medications. It is always advisable to speak with your veterinarian first if your dog gets any medicines regularly.